Learn about life in southern Spain
A day trip to Ronda
Created: Monday, 27 June 2022
Written by Josy Williams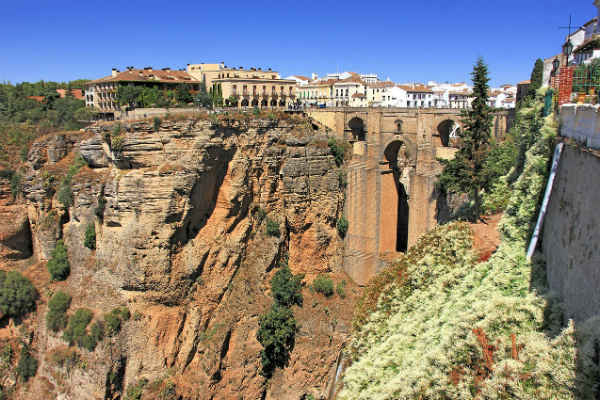 An hour and a half from the hustle and bustle of city life in the provincial capital of Malaga, Ronda is an architectural gem hidden in the mountains inland. Set between two national parks - Parque Natural Sierra de las Nieves and Parque Natural Sierra de Grazalema - it is rich in history and natural beauty. Here you will find a list of must-see attractions.
The number one monument that cannot be missed if you are making the trip to Ronda is Puente Nuevo, from which you will enjoy amazing views of the Tajo Gorge below. If you go in spring be sure to wander down into the gorge which will be filled with flowers.
In the town itself there are many historical monuments that are worth a visit, especially the bullring. Whether you support bullfights or not, this is arguably the birthplace of modern bullfighting which is an important Spanish cultural heritage. You can visit and just have a look around or even buy tickets to a bullfight if you're brave enough…
This city unites three cultures that have dominated there in different periods: the Spanish, the Moorish and the Roman. You will find monuments that can inform us about each one of these influences, the most ancient one being the Roman settlement of Acinipo, that includes a theatre dating from the 1st century after Christ.
"Acinipo" means "the city of wine", a constant reminder of its long wine-producing history. Since Roman times this has been a region famed for its good wine, and there are wine tasting routes that you can follow here also, we recommend this one in and around Ronda.
These are only a few of the experiences and attractions that make Ronda a fantastic place to visit away from the coast. It is definitely worth a trip if you're in the area. With gorgeous scenery, fantastic wine and a rich cultural history, there is something for everyone!